Integrated Multimodal Platform for Urban and Extra Urban Logistic System Optimisation

Funding programme: Industria 2015 – Mobilità sostenibile, Ministero dello Sviluppo Economico
Start – end year: 2009 – 2013
Partnership
Vitrociset S.p.A. (Project Coordinator); Info Solution S.p.A.; Optisoft S.r.l.; Italdata S.p.A.; Click & Find S.r.l.; Project Automation S.p.A.; Powersoft S.r.l.; C.I.P.I. Centro Interuniversitario sull'Ingegneria delle Piattaforme Informatiche TXT e-Solutions S.p.A.; Consorzio Milano Ricerche; C.N.R. Consiglio Nazionale delle Ricerche; Planetek Italia S.r.l.; Università di Palermo; Softeco Sismat S.p.A., Aitek S.p.A., I.Log Iniziative Logistiche S.r.l., Telespazio S.p.A., Elsag-Datamat S.p.A., Globo Informatica S.r.l., CATTID Università di Roma "La Sapienza", EAT European Advanced Technologies S.r.l., Media Plus S.r.l., Creasys S.r.l., ACT Solutions S.r.l., C.N.R. – I.C.T. Consiglio Nazionale delle Ricerche Dip.to Tecnologie Informatiche e Comunicazione.
The project
IMPULSO project aims to develop new technologies and capabilities aimed at improving operational management and transport of goods, starting from the characteristics of "cooperation" and "open standards", also guarantee of the highest levels of security. IMPULSO offers an integrated system for management of goods within the freight, distribution in the medium / long-range, storage in special distribution centers set at the boundaries of metropolitan cities and, finally, in the distribution of the information on cities themselves. The system is based on the presence of specific pivot areas:
Freight Villages: joint areas of goods between the long and middle range. Usually they are either a termination point or the initial phase of the transport.
Metropolitan Distribution Centers (CDM), preferably located on the edge of the metropolitan area.
District Buffer (DB), or temporary goods storage areas located in urban districts.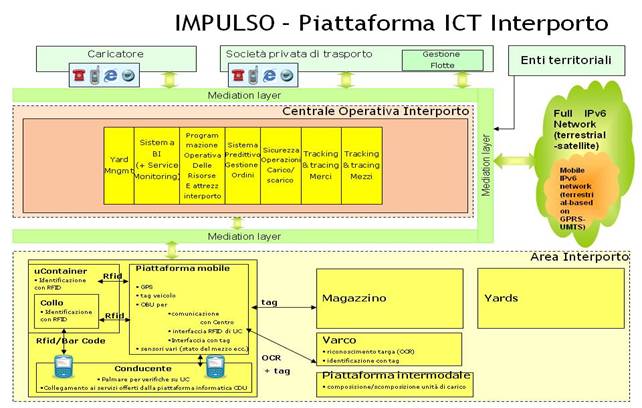 IMPULSO is set to be modular and therefore can be placed on the market in a manner consistent to all existing network infrastructure, with its related procedures, both in an integrated manner and at the module level. Finally, the system includes:
A hardware and software platform for collecting, processing and distribution of data;
A series of I / F HW and SW to the various types of services considered important by those who are potential users of the system and participating in the project in that capacity;
A set of models that represent the equipment to improve the existing infrastructure;
HW prototype for the operational management in the field of vehicles and goods.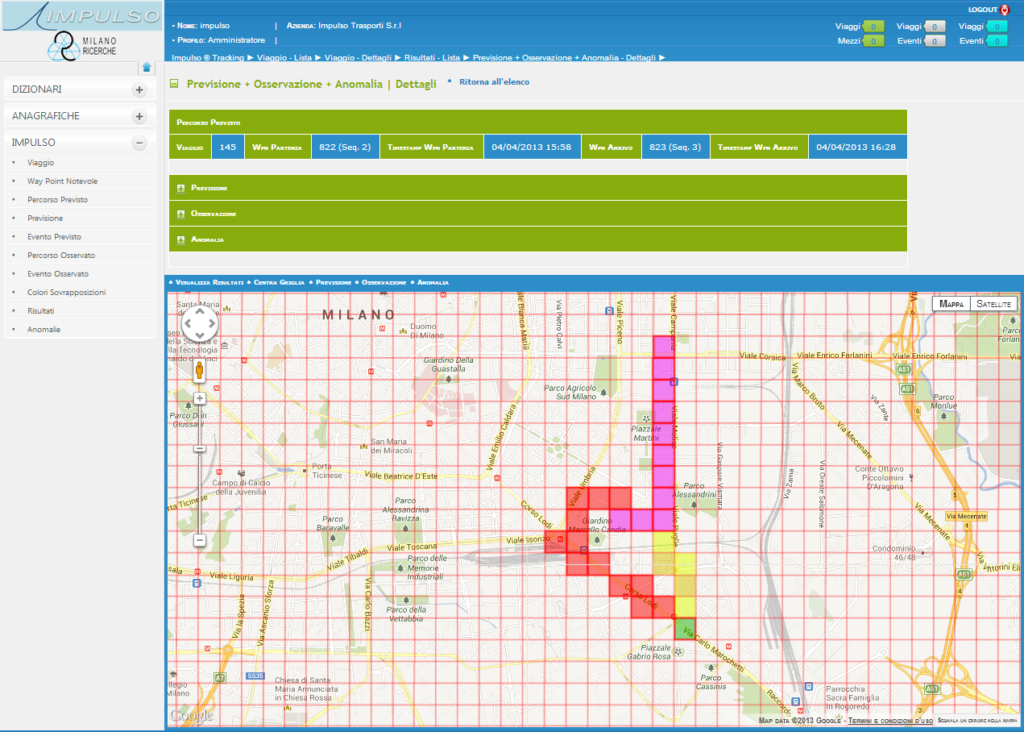 The framework is organized into three major subsystems:
Components and Transportation Systems (Leader: Elsag Datamat)
Infologistics (Leader: Vitrociset)
Collaborative Components and Systems (Leader: Telespazio)